Members only
Evenings (and an afternoon) in the Darkroom with Matt
Unfortunately, the Tuesday night group will not reconvene at the moment.  But Matt has suggested that he can be available over WhatsApp video calling on smart phones.  This is free, using the WASPS internet, and means that Matt can actually look at what you are doing and offer advice.  Matt is happy to do this by arrangement at any time. 
CYANOTYPES
Learn about the simple chemistry involved in one of the earliest 19th century photographic processes, to make beautiful rich blue prints – without a camera!
MEMBERS ONLY: CYANOTYPE SUNDAY – 15th March 2020
BEGINNERS BLACK AND WHITE PHOTOGRAPHY – EVENING CLASS
Everything you need to know to get started in black and white analogue photography – in one day! Learn to shoot, develop and print 35mm black and white film at the Inverness Darkroom. Cameras are available for use – or bring your own. OVER TWO EVENINGS.
More dates coming
£80 All materials supplied. No experience necessary. This workshop will be bookable through EventBrite.
PINHOLE PHOTOGRAPHY
Pinhole photography is a long known way to make photographic images without the use of a lens.
More dates coming
ALL-DAY BOOK MAKING
Learn how to make 2 different types of perfect bound books – one with a soft cover and one with a hard cover, both without complicated or expensive equipment. Materials will be provided, but please feel free to bring along any of your own that you'd like to work with. Not just for photographers – You will learn how to make a soft cover and a hard cover for your book using card and book-cloth and explore a variety of style options you could use. By the end of the day you will leave with 2 finished photo books and lots of ideas to use for your own projects. Workshop is led by artist Marion Archibald from the Old Printing Works. A graduate of Glasgow School of Art, Marion incorporates photography, print-making, found objects, artist books and small-scale sculptures into her practice.
More dates coming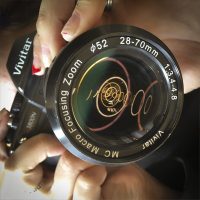 Get to know your camera better – whether it's a new digital camera, or an old analogue camera – this relaxed afternoon session will take you through the controls, menus, buttons and numbers that unlock your camera's creative possibilities.
You will learn how to get the most out of your digital or analogue camera, including manual and automatic controls. Open to non-members.
More dates coming
£35 No previous photography experience necessary. 3 hour session. Bring your camera!
REGISTER HERE